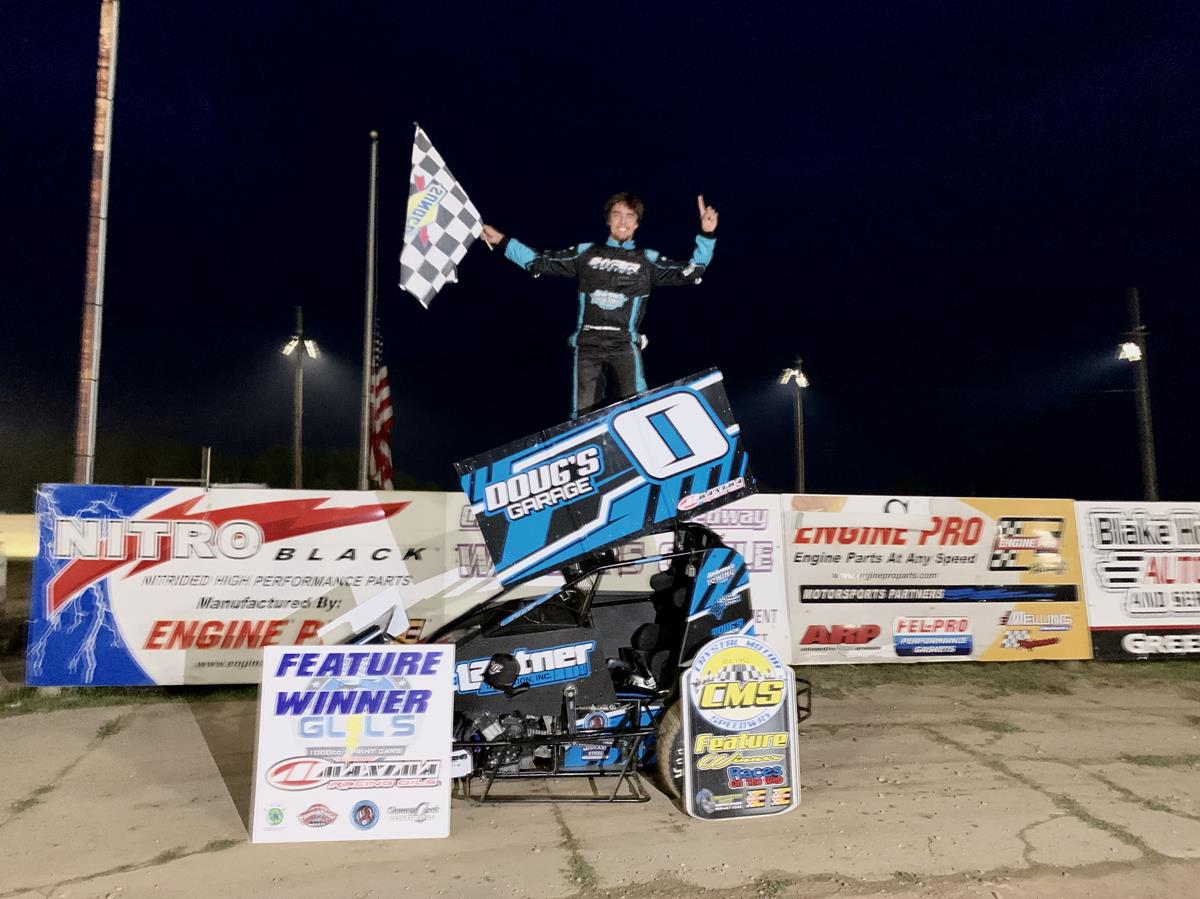 8/1/2020
Great Lakes Lightning Sprints
---
CASCADDEN WINS AT CRYSTAL
Crystal Lake, MI – Brendon Cascadden (Travers City, MI) hits the trifecta tonight as he sets quick time, wins his heat race and wins the feature as the Great Lakes Lightning Sprints made their first appearance at Crystal Motor Speedway.
On an overcast afternoon, that presented a tacky track for these quick ¾ sized winged sprints, Cascadden didn't disappoint as he recorded a 14.825 second lap with an average speed of 91 mph! Mack Erickson (South Boardman, MI) set second quick with a 14.839 seconds. Lindsey Erickson (South Boardman, MI), Bill Dunham (Bellevue, MI) and Alex Cogley (Findlay, OH) rounded out the top 5 cars.
In the Beacon & Bridge Markets Heat 1, Cascadden took the checkered flag after starting 4th, with Dunham finishing 2nd. Thomas Parker (Wayland, MI), Chuck Erickson (South Boardman, MI) and Paul King (Kalkaska, MI) round out the top five finishers.
Mack Erickson starting in the 4th position, gets a good push and wins the Chaney Creek Construction Heat 2. Following in second was Alex Cogley about 7.66 seconds behind Erickson. Richard Clay (Fife Lake, MI), Matt Cogley (Findlay, OH) and Rusty Havens (Traverse City, MI) rounded out the top five.
In the Engler Machine & Tool Heat 3, Justin Ward (Benzonia, MI) won with an 8 second margin over 2nd place finisher, Bud Schrader (Benzonia, MI). Chasing Schrader down at the checkered was Scott Flees (Mesick, MI) who took 3rd with Lindsey Erickson and Randy Plamondon (South Boardman, MI) rounding out the top 5.
18 cars rolled out for the Maxima Racing Oils Feature race. Alex Cogley and Cascadden led the field around the track and to the green flag! It was no surprise as Cascadden jumped out to a quick lead, being quick all night! The race was hard on the cars tonight, loosing cars throughout the race to mechanical failures. With a hand full of cautions, the racing was clean though.
Ward who started 5th, slipped to 7th in the first two laps and he worked his way up to 3rd by the half way mark. In the 12th lap, he got by Richard Clay. A couple more cautions reeled in the leader, Cascadden. But Cascadden wouldn't be denied the victory tonight separating himself from Ward and taking the checkered about 2.8 seconds ahead of Ward. Lindsey Erickson, Rusty Havens and Chuck Erickson took the checkered, rounding out the top five finishers.
Our next race will be this Friday, August 7th at Tri-City Motor Speedway, when all 3 classes of sprints from the Great Lakes Sprints appear for the first time together. Check out www.greatlakessprints.com for the most current and up to date schedule. For update info, announcements and pictures, be sure to follow us on Facebook and Twitter (@GLSprints).
Thank you to our feature sponsor, Maxima Racing Oils as well as marketing partners Chaney Creek Construction, Beacon & Bridge and Specialty Fuels & Logistics and our racing partner Engler Machine & Tool.
---
Article Credit: GLSS Staff
Article Media
Back to News