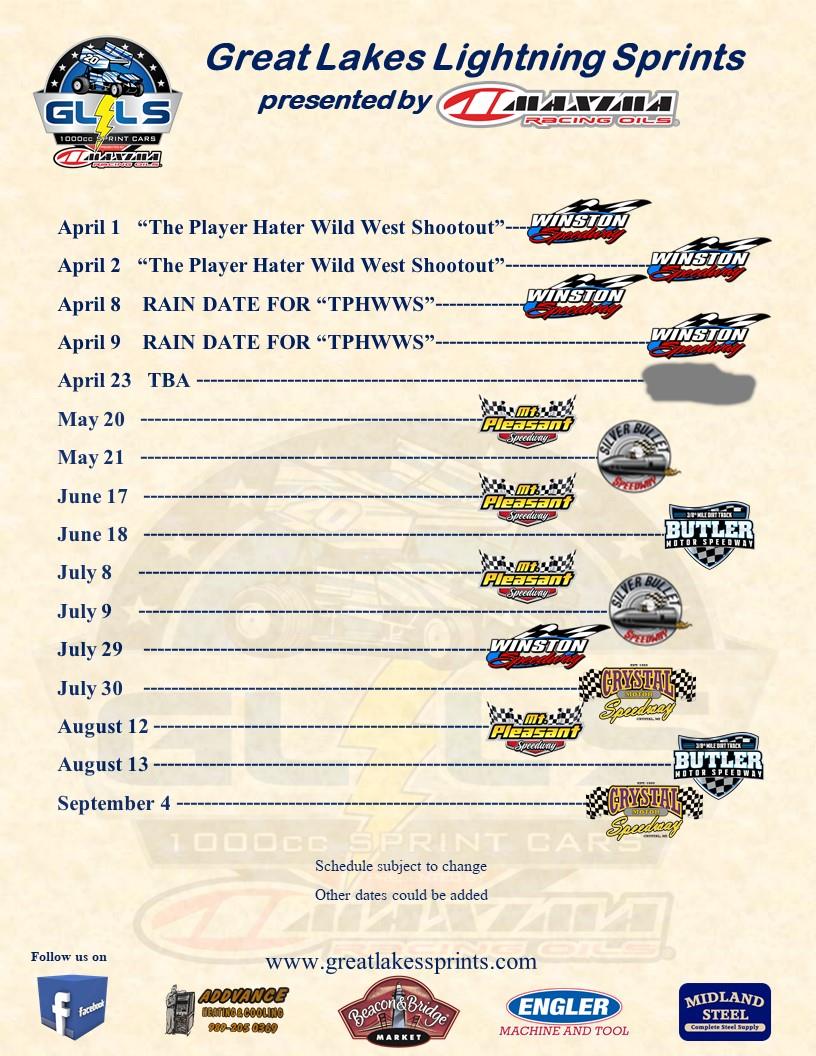 1/29/2022
Great Lakes Lightning Sprints
---
2022 GLLS RACE SCHEDULE
Merrill, MI - Great Lakes Lightning Sprints presented by Maxima Racing Oils (GLLS) is pleased to present our 2022 Race Schedule. 2021 Champion Jac Nickles (Harrod, OH) has moved up to a full sized sprint, so there will be a new race for the championship in 2022.
This season, Winston Speedway has invited GLLS to their 2nd annual Player Hater Wild West Show to kick off the season. This will be the first sprint car racing in Michigan opening on Friday, April 1st with qualifying and heat races and then Saturday, April 2nd will end the weekend with B-Mains and A-Mains. We have set aside the following weekend, April 8/9, as a rain date. Watch for a seperate article coming soon with payouts, times and details for the exciting weekend!
Mount Pleasant Speedway has stepped up this year and will help anchor this season with one race each month. The middle of our schedule will include 5 double weekends. As we try to grow this series, double weekends minimize the number of weekends our drivers need to commit to traveling and helps drivers that are further away with two races per trip. Last year we had 34 different drivers run with GLLS, up 10 from our first year. We are hoping for 5-8 new cars joining us this season.
In May we travel to Mt Pleasant on May 20th for our first of 4 visits, then travel straight east to Silver Bullet Speedway in the Thumb of Michigan on Saturday, May 21st.
On June 17th, we're back to Mt Pleasant for our second visit and then travel straight south for our first visit of the season at the Battle Grounds of Butler Motor Speedway on June 18th.
Opening on Friday, July 8th at Mt Pleasant, we'll double up with the Bullet again, traveling to the Silver Bullet near Owendale, MI for our last visit of the season on July 9th.
Wrapping up July, we'll travel to Winston Speedway on the 29th, our first visit since our opener. Then on Saturday, July 30th we'll make our first visit to fan favorite Crystal Motor Speedway.
As we roll into August, we'll make our last visit to Mt Pleasant Speedway on August 12th. On Saturday, August 13th we'll head south to visit Butler Motor Speedway for the last 2022 visit.
We currently have April 23rd we are working on as a potential date and there could be a couple more dates added before the season starts.
On Sunday, September 4th we will roll into Crystal Motor Speedway for our final race of the season and to crown our 2022 Champion.
Be sure to follow us on Facebook and for our schedule, press releases and updates, go to our website at www.greatlakessprints.com.
---
Article Credit: Great Lakes Sprints Staff
Submitted By: Barry Marlow
Back to News