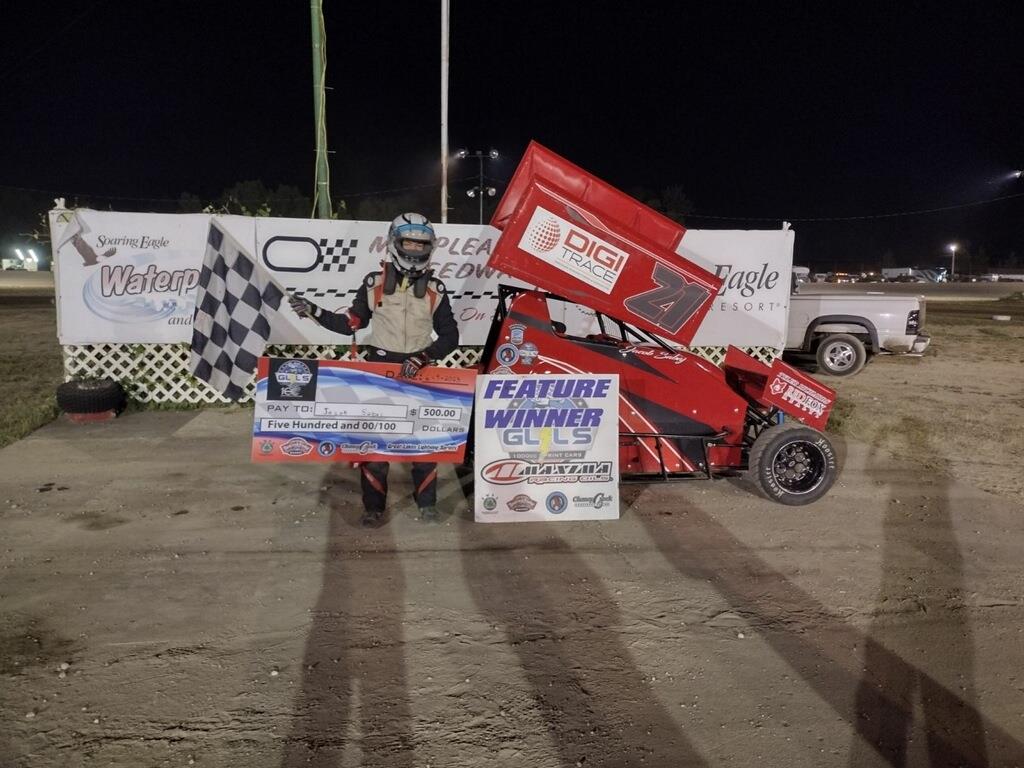 6/10/2023
Great Lakes Lightning Sprints
---
JACOB SABAJ TAKES HOME HIS FIRST EVER GLLS FEATURE WIN
Mt.Pleasant, MI (Friday, June 9, 2023) -Great Lakes Lightning Sprints presented by United Engine and Machine (GLLS) had their second race of the season at Mt.Pleasant Speedway. The night was packed with a thrilling event of high speed racing and an amazing turnout in the stands. To start this right, we would like to say thank you to all the drivers, fans, sponsors, and staff members who came out to the race and supported us.
During the parade lap before the Feature race started EJ Szyska (Harrison,MI) and Rick Irwin (Fostoria, MI) collided causing them to both spin out. Unfortunately, Szyska was unable to participate in the Feature Race. During the Feature Race a caution was thrown because Dalton Pipgrass (Byron, MI) spun out which caused Brendon Cascadden (Traverse City, MI) to hit his tire and flip his car. After this caution was cleared up Jacob Sabaj (Cournna, MI) who started in 4th place was able to take the lead. Sabaj was able to hold his pace for the rest of the Feature Race and take home his first ever Feature Race win with the Great Lakes Lightning Sprints!!
Matt Cogley (Findlay, OH) sets a fast time of 14.618 taking home the Fast Qualifier! Justin Ward (Benzonia, MI) wins the Chaney Creek Construction Heat Race 1. Lindsey Erickson (South Boardman, MI) wins the Double W Oilfield Sales & Service Heat Race 2. Sabaj take home Heat Race 3 presented by Beacon & Bridge Market.
Next Up! GLLS will be racing at I-96 Speedway on June 16th and Butler Speedway on July 1!!
Thank you to our sponsors who are the ones that allow us to a great show to your local tracks. Please help us by supporting the sponsors listed below….
United Engine Machine
Beacon & Bridge Market
Chaney Creek Construction
Double W Oilfield Sales & Service
Hoosier Race Tires
Specialty Fuels & Logistics
Media Results for 6/9/2023 at Mount Pleasant Speedway - Mount Pleasant, MI
Lightning Sprints 22 Entries
A Feature 1 20 Laps | 00:40:23.020 | United Engine & Machine
21-Jacob Sabaj[4]; 2. 8-Justin Ward[5]; 3. 55-Matt Cogley[3]; 4. 16-Noah Wilfong[1]; 5. 273-Jerry Napeir[14]; 6. 29-Arlie Cooper Jr[8]; 7. 19-Avery Neal[15]; 8. 40C-Chad Colley[12]; 9. 28-Bella Erickson[16]; 10. 18-Lindsey Erickson[6]; 11. 38-Mack Erickson[9]; 12. 45-Bobby Miller[19]; 13. (DNF) 116-Kevin King[18]; 14. (DNF) 48-Jake Erickson[17]; 15. (DNF) 0-Brendon Cascadden[2]; 16. (DNF) 7-Ricky Droke[7]; 17. (DNF) 76-Dalton Pipgras[21]; 18. (DNF) 63-Rick Irwin[20]; 19. (DNF) 26-Richard Clay Sr[10]; 20. (DNF) 84-Bill Dunham[11]; 21. (DNF) 54-Bud Schrader[13]; 22. (DNS) 75XJ-EJ Szyska
Heat 1 8 Laps | 00:03:04.863 | Beacon and Bridge
8-Justin Ward[3]; 2. 55-Matt Cogley[4]; 3. 7-Ricky Droke[2]; 4. 26-Richard Clay Sr[1]; 5. 54-Bud Schrader[5]; 6. 28-Bella Erickson[6]; 7. 45-Bobby Miller[8]
Heat 2 8 Laps | 00:03:12.293 | Chaney Creek Construction
18-Lindsey Erickson[1]; 2. 0-Brendon Cascadden[4]; 3. 29-Arlie Cooper Jr[3]; 4. 84-Bill Dunham[5]; 5. 273-Jerry Napeir[2]; 6. 48-Jake Erickson[6]; 7. 63-Rick Irwin[7]
Heat 3 8 Laps | 00:03:08.436 | Chaney Creek Construction
21-Jacob Sabaj[2]; 2. 16-Noah Wilfong[1]; 3. 38-Mack Erickson[4]; 4. 40C-Chad Colley[5]; 5. 19-Avery Neal[6]; 6. 116-Kevin King[7]; 7. (DNF) 76-Dalton Pipgras[3]
Qualifying | 00:00:51.897
55-Matt Cogley, 00:14.618[15]; 2. 0-Brendon Cascadden, 00:14.734[10]; 3. 38-Mack Erickson, 00:14.748[17]; 4. 8-Justin Ward, 00:14.827[22]; 5. 29-Arlie Cooper Jr, 00:15.150[9]; 6. 76-Dalton Pipgras, 00:15.178[21]; 7. 7-Ricky Droke, 00:15.182[2]; 8. 273-Jerry Napeir, 00:15.192[4]; 9. 21-Jacob Sabaj, 00:15.236[6]; 10. 26-Richard Clay Sr, 00:15.311[13]; 11. 18-Lindsey Erickson, 00:15.352[1]; 12. 16-Noah Wilfong, 00:15.369[16]; 13. 54-Bud Schrader, 00:15.389[14]; 14. 84-Bill Dunham, 00:15.474[11]; 15. 40C-Chad Colley, 00:15.680[8]; 16. 28-Bella Erickson, 00:15.732[20]; 17. 48-Jake Erickson, 00:15.766[5]; 18. 19-Avery Neal, 00:16.301[7]; 19. 75XJ-EJ Szyska, 00:16.456[18]; 20. 63-Rick Irwin, 00:16.548[3]; 21. 116-Kevin King, 00:17.286[12]; 22. 45-Bobby Miller, 00:20.785[19]
---
Article Credit: Brooke K. Pulice
Submitted By: Brooke Pulice
Article Media
Back to News