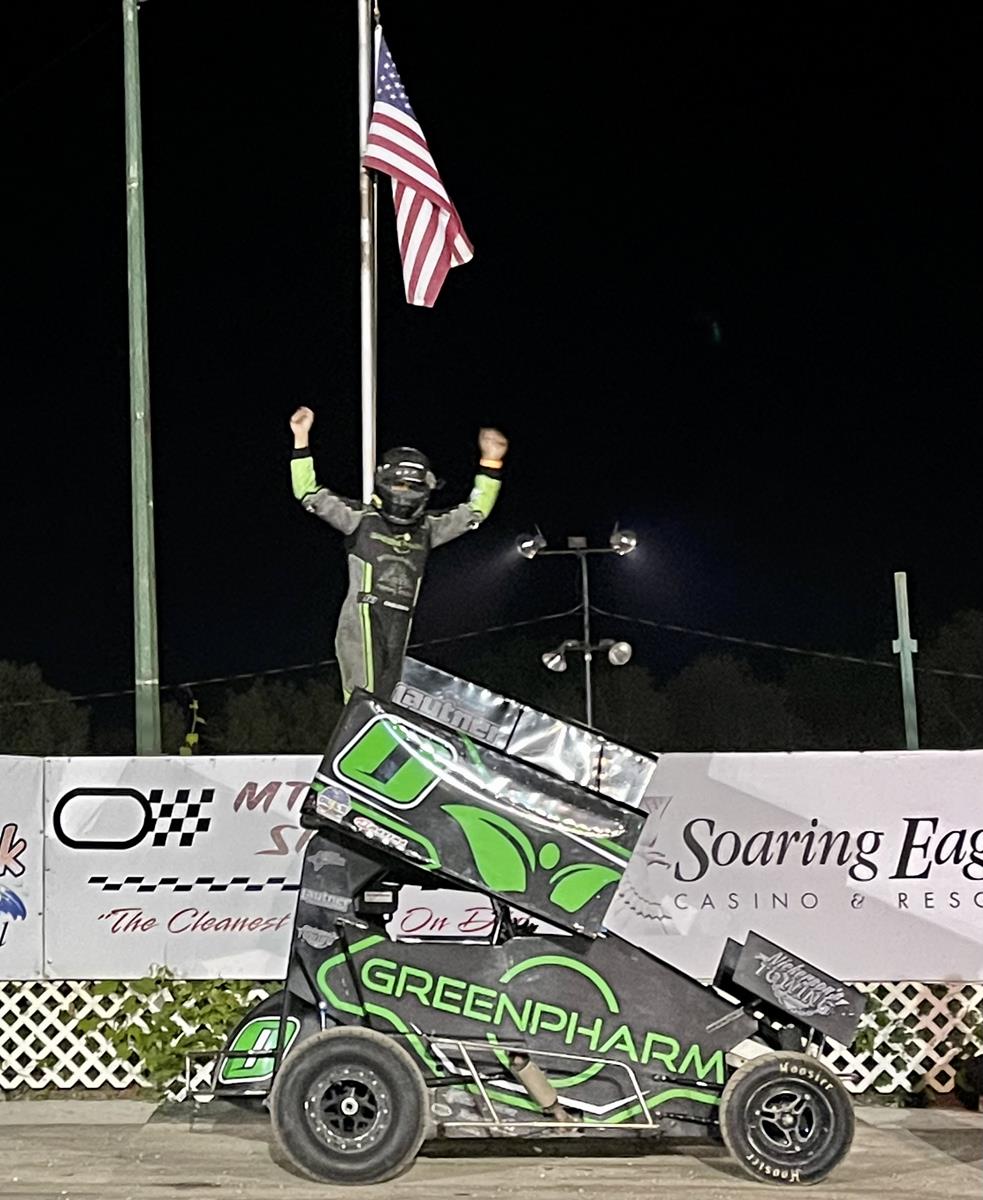 7/9/2022
Great Lakes Lightning Sprints
---
Cascadden Sweeps the Weekend
Mid-Michigan – Putting in the time on the car, practicing at different tracks around the state and traveling the country racing against the best drivers in the country has paid off this season for the 2020 Great Lakes Lightning Sprints presented by Maxima Racing Oils Champion, Brendon Cascadden (Traverse City, MI) as he had back to back wins this weekend at Mt Pleasant Speedway and Silver Bullet Speedway. This brings Brendon's wins so far in 2022, to 4 this season out of 5 races.
We opened the weekend on Friday at Mt Pleasant Speedway with 15 cars registered to race. With a few cars still waiting for parts, the 2022 season has started to take its toll on cars. After a nasty wreck and some cars running into mechanical issues on Friday night our car count was going to be less than desired for Silver Bullet Speedway on Saturday. Thank you to the fans at The Bullet and owner Matt Hoonhout for their understanding. We had a great night and always enjoy the hospitality.
Our thoughts and prayers go out to Bud Shrader who took a nasty flip toward the flag stand and then hitting the opening in the concrete wall. Bud landed upside down but walked away. However he is very sore this weekend. Below is a complete summary of the results for both nights.
The next scheduled Great Lakes Lightning Sprints presented by Maxima Racing Oils show, will be Friday, July 29th for our last visit to Winston Speedway for the season and on Saturday, July 30th we travel to the middle of the state to Crystal Motor Speedway.
Thank you to all of our sponsors, fans, tracks and teams that support Great Lakes Lightning Sprints presented by Maxima Racing O, without them none of this would be possible. Be sure to follow us on Facebook and Twitter (@GLSprints).
For our schedule, results and points, go to our website at www.greatlakessprints.com.
Media Results for 7/8/2022 at Mount Pleasant Speedway - Mount Pleasant, MI
Lightning Sprints 15 Entries
A Feature 1 20 Laps | 00:39:03.949 | Maxima Racing Oils
0-Brendon Cascadden[1]; 2. 8-Justin Ward[4]; 3. 29-Arlie Cooper Jr[7]; 4. 55-Matt Cogley[11]; 5. B4-Noah Wilfong[8]; 6. 28-Bella Erickson[13]; 7. 48-Jake Erickson[14]; 8. 76-Dalton Pipgras[12]; 9. (DNF) 7-Ricky Droke[5]; 10. (DNF) 54-Bud Schrader[15]; 11. (DNF) 38-Mack Erickson[3]; 12. (DNF) 18-Lindsey Erickson[2]; 13. (DNF) 101-Chuck Erickson[9]; 14. (DNF) 2A-Johnny Roberts[6]; 15. (DNF) 75XJ-EJ Szyska[10]
Heat 1 8 Laps | 00:03:00.824 | Engler Machine and Tool
0-Brendon Cascadden[4]; 2. 18-Lindsey Erickson[3]; 3. 7-Ricky Droke[2]; 4. 29-Arlie Cooper Jr[5]; 5. 101-Chuck Erickson[6]; 6. 55-Matt Cogley[7]; 7. 28-Bella Erickson[1]; 8. 54-Bud Schrader[8]
Heat 2 8 Laps | 00:07:22.906 | Chaney Creek Construction
38-Mack Erickson[2]; 2. 2A-Johnny Roberts[3]; 3. 8-Justin Ward[4]; 4. B4-Noah Wilfong[1]; 5. 75XJ-EJ Szyska[7]; 6. 76-Dalton Pipgras[6]; 7. 48-Jake Erickson[5]
Qualifying 1 99 Laps | 00:02:43.989
0-Brendon Cascadden, 00:14.429[4]; 2. 8-Justin Ward, 00:14.500[5]; 3. 18-Lindsey Erickson, 00:14.724[8]; 4. 2A-Johnny Roberts, 00:14.737[12]; 5. 7-Ricky Droke, 00:15.013[6]; 6. 38-Mack Erickson, 00:15.101[2]; 7. 28-Bella Erickson, 00:15.111[10]; 8. B4-Noah Wilfong, 00:15.389[3]; 9. 29-Arlie Cooper Jr, 00:15.430[1]; 10. 48-Jake Erickson, 00:16.025[13]; 11. 101-Chuck Erickson, 00:16.155[11]; 12. 76-Dalton Pipgras, 00:18.503[14]; 13. 55-Matt Cogley, 00:18.939[7]; 14. (DNS) 75XJ-EJ Szyska, 00:18.939; 15. (DNS) 54-Bud Schrader, 00:18.939
Media Results for 7/9/2022 at Silver Bullet Speedway - Owendale, MI
Lightning Sprints 7 Entries
A Feature 1 20 Laps | 00:18:15.515 Maxima Racing Oils
0-Brendon Cascadden[6]; 2. 8-Justin Ward[1]; 3. 55-Matt Cogley[4]; 4. 29-Arlie Cooper Jr[2]; 5. 76-Dalton Pipgras[5]; 6. 7-Ricky Droke[7]; 7. 40C-Chad Colley
Heat 1 12 Laps | 00:09:37.000 | Engler Machine and Tool
8-Justin Ward[2]; 2. 0-Brendon Cascadden[4]; 3. 29-Arlie Cooper Jr[1]; 4. 55-Matt Cogley[5]; 5. 76-Dalton Pipgras[7]; 6. 40C-Chad Colley[6]; 7. 7-Ricky Droke[3]
Qualifying 1 99 Laps | 00:00:37.000
0-Brendon Cascadden, 00:14.852[1]; 2. 7-Ricky Droke, 00:15.132[2]; 3. 8-Justin Ward, 00:15.353[6]; 4. 29-Arlie Cooper Jr, 00:15.418[7]; 5. 55-Matt Cogley, 00:15.882[4]; 6. 40C-Chad Colley, 00:16.969[3]; 7. 76-Dalton Pipgras, 00:17.937[5]
---
Article Credit: Great Lakes Sprints Staff
Submitted By: Barry Marlow
Article Media
Back to News