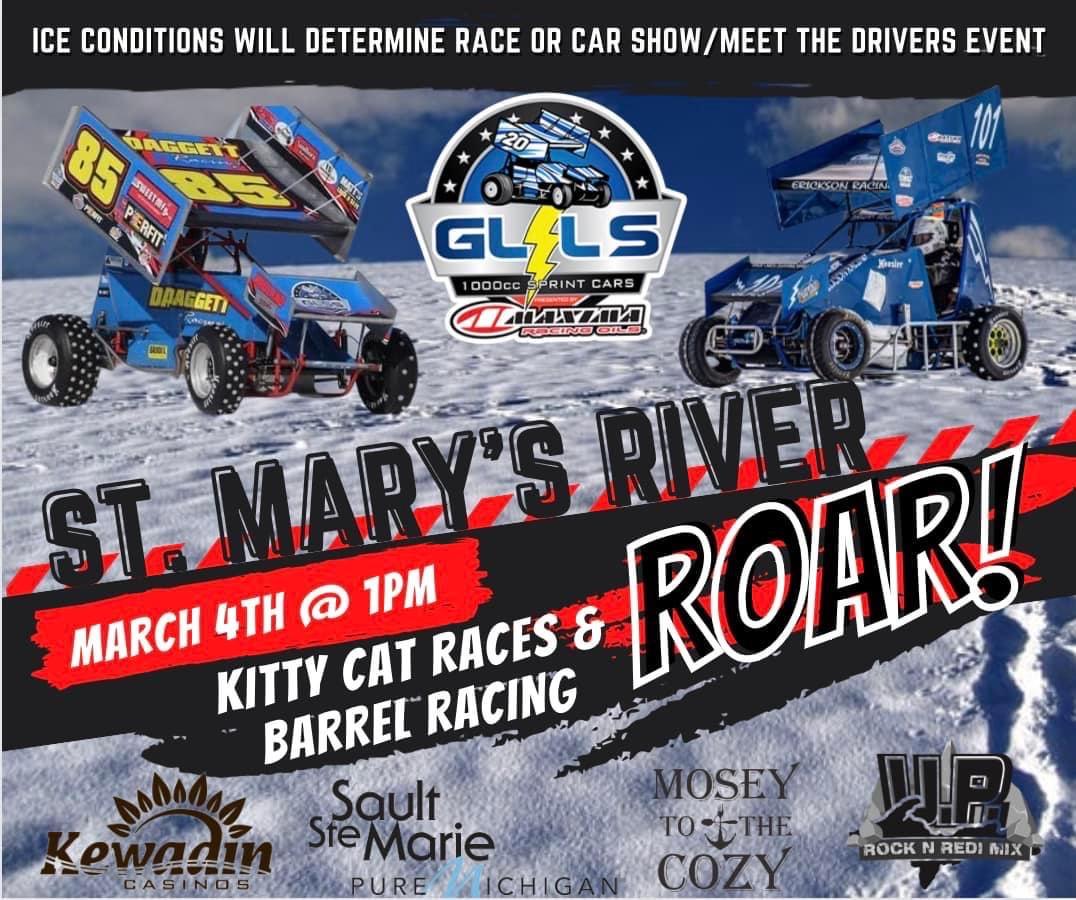 2/25/2023
Great Lakes Lightning Sprints
---
MOZY TO THE COZY MARCH 4TH
Barbeau, MI – In one week we will get our only chance this year to go out and play on the ice! This Saturday, March 4th we will take at least 5 lightning sprints and 2 full sized sprints to the 2nd annual River Roar at Cozy Corners in Barbeau, MI on the St Mary's River.
Ice racing around the country melted away this year with the unusual warm weather. Most inland lakes around Michigan were lucky to make 7" of ice. This was also the problem on the east coast where the ice racing season was cancelled in New Hampshire up to Maine.
From Great Lakes Lightning Sprints, we are expecting Chuck Erickson, Richard Clay, Bob Lennox, Lindsey and Mack Erickson. In full sized sprints we are expecting Dustin Daggett and Jacob Sanfacon.
Jacob Sanfacon (#19), from Middleton NH, was excited about racing on studded tires for the first time. Jacob has raced on ice, but only with chains on the wheels. This season was the first year the group in New Hampshire was converting to studs. With racing cancelled on the East Coast, Jacob and his team are making the 19 hour tow to try out the blue Ice on the St Mary's River and race against Dustin Daggett (#85) Sprints on Dirt and Great Lakes Super Sprints Champion.
Jacob is 23 years old and is a youth division champion, 4 cylinder division champion, Steet Stock Division Champion and moved up to a full sized sprint and earned a Latchkey win last year.
Also coming up to be on hand for the River Roar (but not racing) will be GLSS Champions, Chase Ridenour, Jared Horstman, Dustin Daggett (racing), Phil Gressman, Ryan Ruhl and current Champion Max Stambaugh.
Sprint Cars will hit the blue ice at 1 pm with Kitty Kat Races and Barrel Racing to follow! We are coming to Barbeau ice or no ice, so don't miss your only chance to be on the ice with us this year! So Mozy to the Cozy and join us for the St Marys River ROAR!
Thank you to our sponsors PERfit/Engine Pro, Engler Machine & Tool, Jim Coffey Plumbing & Heating, Beacon & Bridge Markets and last but not least Kewadin Casinos and Cozy Corners!
Be sure to follow us on Facebook and go to our website to keep up on our 2023 Schedule, www.greatlakessprints.com .
---
Article Credit: GLLS STAFF WRITER
Submitted By: Barry Marlow
Article Media
Back to News