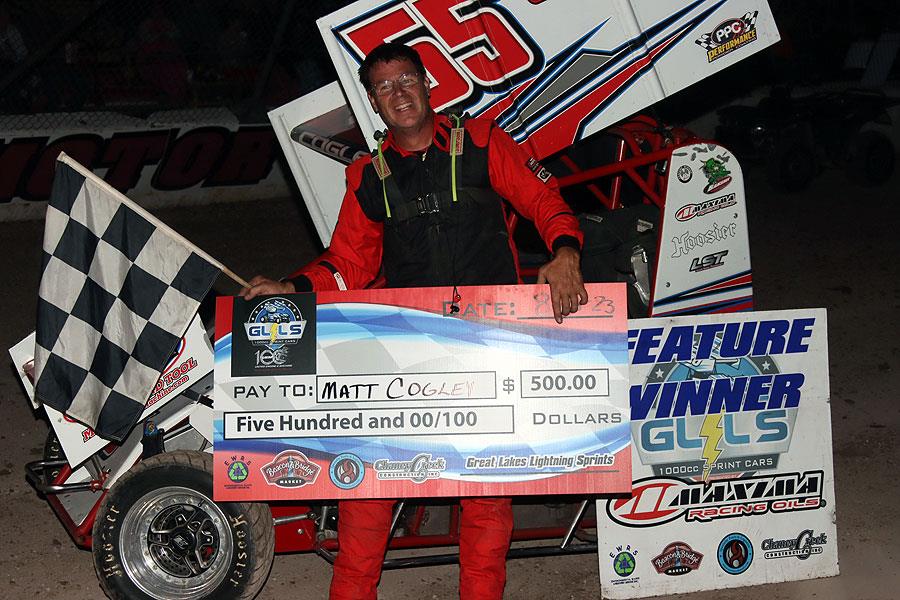 8/25/2023
Great Lakes Lightning Sprints
---
MATT COGLEY LEAVES VICTORIOUS FROM TRI-CITY MOTOR SPEEDWAY
Auburn, MI (Friday, August 26, 2023) - The Great Lakes Lightning Sprints presented by United Engine and Machine (GLLS) held their second race of the season at Tri-City Motor Speedway. The event unfolded with the fortunate presence of ideal track conditions, making for an exceptional evening at Tri-City Motor Speedway. A total of 21 lightning sprint cars participated in the event, contributing to a thrilling spectacle of high-speed racing that garnered a remarkable turnout in the stands. Our sincere appreciation goes out to the drivers, fans, sponsors, and diligent staff members who turned out to support the race.
Matt Cogley from Findlay, OH, secured the 2nd position through the pill draw and promptly surpassed the leader, Dalton Pipgras of Byron, MI, in the opening lap. Cogley sustained his lead for most of the Feature Race. About 10 laps into the race, Brendon Cascadden from Traverse City, MI, overtook Cogley and led until a caution was signaled. During this caution period, Cascadden exited the race, placing Cogley back in the lead position. He engaged in a heated competition for the top position against Justin Ward of Benzonia, MI. Despite a spirited battle, Cogley effectively retained his lead and clinched his second Feature Race victory of the season.
Justin Ward set the pace with the fastest time, an impressive 12.155 seconds. Following closely, Brendon Cascadden secured the second-fastest time with a record of 12.284 seconds. Arlie Cooper Jr. from Bear Lake, MI, secured the third-fastest time, completing the lap in 12.378 seconds.
During the heat races, Lindsey Erickson of South Boardman, MI, won the Heat Race 1, presented by Beacon and Bridge Market. Heat Race 2, sponsored by Chaney Creek Construction, was claimed by Brendon Cascadden. Dalton Pipgras emerged victorious in Heat Race 3, presented by Double W Oilfield Service.
Looking forward, the next event on the GLLS calendar is the end-of-season championship race at Crystal Motor Speedway on Saturday, September 2, 2023.
Thank you to our sponsors who are the ones that allow us to a great show to your local tracks. Please help us by supporting the sponsors listed below….
United Engine Machine
Beacon & Bridge Market
Chaney Creek Construction
Double W Oilfield Sales & Service
Hoosier Race Tires
Specialty Fuels & Logistics
Media Results for 8/25/2023 at Tri-City Motor Speedway - Auburn, MI
Lightning Sprints 21 Entries
A Feature 1 20 Laps | 00:10:39.029 | United Engine & Machine
55-Matt Cogley[2]; 2. 8-Justin Ward[13]; 3. 16-Noah Wilfong[6]; 4. 21-Jacob Sabaj[5]; 5. 76-Dalton Pipgras[1]; 6. 38-Mack Erickson[7]; 7. 7-Jay Steinebach[20]; 8. 18-Lindsey Erickson[3]; 9. 84-Bill Dunham[8]; 10. 101-Chuck Erickson[10]; 11. 28-Bella Erickson[14]; 12. 40C-Chad Colley[12]; 13. 48-Jake Erickson[15]; 14. 45-Bobby Miller[16]; 15. 116-Kevin King[17]; 16. 54-Bud Schrader[18]; 17. 273-Jerry Napier[21]; 18. (DNF) 48H-David Hilliker[11]; 19. (DNF) 0-Brendon Cascadden[4]; 20. (DNF) 29-Arlie Cooper Jr[9]; 21. (DNS) 114-Sherman Napeir
Heat 1 8 Laps | 00:03:02.184 | Beacon and Bridge
18-Lindsey Erickson[1]; 2. 21-Jacob Sabaj[3]; 3. 38-Mack Erickson[2]; 4. 101-Chuck Erickson[5]; 5. 8-Justin Ward[4]; 6. 45-Bobby Miller[7]; 7. (DNS) 114-Sherman Napeir
Heat 2 8 Laps | 00:02:46.672 | Chaney Creek Construction
0-Brendon Cascadden[4]; 2. 55-Matt Cogley[2]; 3. 84-Bill Dunham[1]; 4. 48H-David Hilliker[6]; 5. 28-Bella Erickson[5]; 6. 116-Kevin King[7]; 7. (DNF) 7-Jay Steinebach[3]
Heat 3 8 Laps | 00:02:53.364 | Double W Oilfield Service
76-Dalton Pipgras[1]; 2. 16-Noah Wilfong[3]; 3. 29-Arlie Cooper Jr[4]; 4. 40C-Chad Colley[2]; 5. 48-Jake Erickson[5]; 6. 54-Bud Schrader[7]; 7. (DNS) 273-Jerry Napier
Qualifying 1 99 Laps | 00:00:39.000
8-Justin Ward, 00:12.155[3]; 2. 0-Brendon Cascadden, 00:12.284[9]; 3. 29-Arlie Cooper Jr, 00:12.378[14]; 4. 21-Jacob Sabaj, 00:12.387[2]; 5. 7-Jay Steinebach, 00:12.571[13]; 6. 16-Noah Wilfong, 00:12.741[7]; 7. 38-Mack Erickson, 00:12.805[19]; 8. 55-Matt Cogley, 00:12.829[17]; 9. 40C-Chad Colley, 00:12.855[1]; 10. 18-Lindsey Erickson, 00:12.858[6]; 11. 84-Bill Dunham, 00:12.900[12]; 12. 76-Dalton Pipgras, 00:13.041[18]; 13. 101-Chuck Erickson, 00:13.223[20]; 14. 28-Bella Erickson, 00:13.589[11]; 15. 48-Jake Erickson, 00:13.649[21]; 16. 114-Sherman Napeir, 00:14.251[5]; 17. 48H-David Hilliker, 00:14.580[8]; 18. 273-Jerry Napier, 00:17.269[16]; 19. 45-Bobby Miller, 00:17.269[10]; 20. 116-Kevin King, 00:17.269[4]; 21. (DNS) 54-Bud Schrader
---
Article Credit: Brooke K. Pulice
Article Media
Back to News