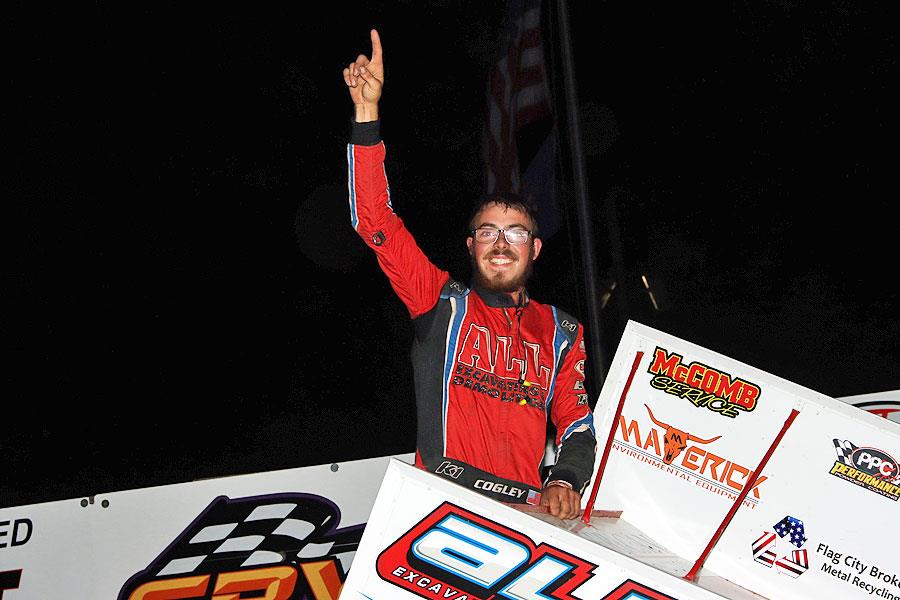 9/4/2023
Great Lakes Lightning Sprints
---
ALEX COGLEY WINS HIS FIRST FEATURE OF THE SEASON AND WARD TAKES HOME THE CHAMPIONSHIP
Crystal, MI (Sunday, September 3, 2023) - The Great Lakes Lightning Sprints presented by United Engine and Machine (GLLS) had their Season Championship Race at Crystal Motor Speedway, leaving the audience with a night to remember! We had an incredible turnout with 26 Lightning Sprint cars.The stands were packed with an incredible turnout, and we extend our heartfelt gratitude to the drivers, fans, sponsors, and dedicated staff members whose support and enthusiasm made this event an overwhelming success.
In the redraw, Alex Cogley from Findlay, OH found himself in position number 5, not the luckiest position. However, it was a showcase of his skill as he maintained an impressive pace throughout the Feature Race, ultimately securing his first eveer Feature Race win of the season! For the first time this season we had a B-main, congratulations to Bill Dunham from Boyne Falls, MI for winning the B-main!
During the qualifying laps, Justin Ward from Benzonia, MI showcased outstanding performance as the Fast Qualifier, with an impressive lap time of 14.367 seconds. Close behind was, Lindsey Erickson from South Boardman, MI who secured the second spot with a lap time of 14.566 seconds, and Ricky Droke from Reed City, MI rounded out the podium with a lap time of 14.667 seconds.
During the heats, Alex Cogley from Findlay, OH claimed victory in the Beacon and Bridge Market Heat Race 1. Noah Wilfong from Wayland,MI dominated the Chaney Creek Construction Heat Race 2. Brendon Cascadden from Traverse City, MI emerged victorious in Heat Race 3 presented by Double W Oilfield Services. Johnny Roberts from Wheeler, MI wins Heat Race 4 presented by Environmental Waste and Recovery Services!
What an absolutely fantastic Championship Night it turned out to be! We proudly crowned Justin Ward from Benzonia, MI as the well-deserved 2023 GLLS Champion! Justin's exceptional performance led the field with an impressive total of 2,739 points this season. Ward has consistently shone in the GLLS series, and his latest victory adds another remarkable achievement to his list.
The Top 5 Leaderboard stands as follows:
#8 Justin Ward (Benzonia, MI)
#55 Matt Cogley (Findlay, OH)
#21 Jacob Sabaj (Cournna, MI)
#16 Noah Wilfong (Wayland, MI)
#29 Arlie Cooper Jr. (Bear Lake, MI)
What another great season it was with the Great Lakes Lightning Sprints. We want to thank again all of our fans, drivers, staff members, sponsors, and tracks that help make are series possible. Another special congratulations to our 2023 Great Lakes Lightning Sprints Champion Justin Ward!!
See you in 2024!
Thank you to our sponsors who are the ones that allow us to a great show to your local tracks. Please help us by supporting the sponsors listed below….
United Engine Machine
Beacon & Bridge Market
Chaney Creek Construction
Double W Oilfield Sales & Service
Hoosier Race Tires
Specialty Fuels & Logistics
Media Results for 9/3/2023 at Crystal Motor Speedway - Crystal, MI
Lightning Sprints 26 Entries
A Feature 1 20 Laps | 00:11:04.524
55C-Alex Cogley[5]; 2. 8-Justin Ward[2]; 3. 16-Noah Wilfong[1]; 4. 21-Jacob Sabaj[3]; 5. 7-Ricky Droke[6]; 6. 18-Lindsey Erickson[10]; 7. 29-Arlie Cooper Jr[9]; 8. 76-Dalton Pipgras[11]; 9. 101-Chuck Erickson[13]; 10. 55-Matt Cogley[4]; 11. 28-Bella Erickson[17]; 12. 45-Bobby Miller[19]; 13. 116-Kevin King[20]; 14. 2A-Johnny Roberts[7]; 15. 48-Jake Erickson[18]; 16. 40C-Chad Colley[15]; 17. 38-Mack Erickson[14]; 18. 84-Bill Dunham[16]; 19. (DNS) 0-Brendon Cascadden; 20. (DNS) 273-Jerry Napier; 21. (DNS) 19-Avery Neal
B Feature 1 10 Laps | 00:08:02.065
84-Bill Dunham[2]; 2. 28-Bella Erickson[5]; 3. 48-Jake Erickson[3]; 4. 45-Bobby Miller[4]; 5. 116-Kevin King[8]; 6. 1-Timmy Neal[1]; 7. (DNF) 4-Cameron McArthur[6]; 8. (DNS) 114-Sherman Napeir; 9. (DNS) 54-Bud Schrader; 10. (DNS) 75XJ-EJ Szyska
Heat 1 8 Laps | 00:02:57.000 | Beacon and Bridge
55C-Alex Cogley[2]; 2. 8-Justin Ward[4]; 3. 29-Arlie Cooper Jr[3]; 4. 273-Jerry Napier[1]; 5. 1-Timmy Neal[5]; 6. (DNF) 75XJ-EJ Szyska[6]; 7. (DNS) 114-Sherman Napeir
Heat 2 8 Laps | 00:03:14.000 | Chaney Creek Construction
16-Noah Wilfong[1]; 2. 21-Jacob Sabaj[3]; 3. 18-Lindsey Erickson[4]; 4. 101-Chuck Erickson[2]; 5. 84-Bill Dunham[5]; 6. 28-Bella Erickson[7]; 7. 116-Kevin King[6]
Heat 3 8 Laps | 00:03:51.000 | Double W Oilfield Service
0-Brendon Cascadden[2]; 2. 7-Ricky Droke[4]; 3. 76-Dalton Pipgras[1]; 4. 38-Mack Erickson[3]; 5. 48-Jake Erickson[5]; 6. (DNF) 4-Cameron McArthur[6]
Heat 4 8 Laps | 00:02:33.000 | Specialty Fuel Logistics
2A-Johnny Roberts[4]; 2. 55-Matt Cogley[3]; 3. 19-Avery Neal[2]; 4. 40C-Chad Colley[1]; 5. 45-Bobby Miller[6]; 6. 54-Bud Schrader[5]
Qualifying 1 | 00:00:55.000
8-Justin Ward, 00:14.367[24]; 2. 18-Lindsey Erickson, 00:14.566[7]; 3. 7-Ricky Droke, 00:14.667[18]; 4. 2A-Johnny Roberts, 00:14.790[8]; 5. 29-Arlie Cooper Jr, 00:14.891[2]; 6. 21-Jacob Sabaj, 00:14.981[4]; 7. 38-Mack Erickson, 00:15.066[14]; 8. 55-Matt Cogley, 00:15.177[16]; 9. 55C-Alex Cogley, 00:15.202[1]; 10. 101-Chuck Erickson, 00:15.235[25]; 11. 0-Brendon Cascadden, 00:15.287[22]; 12. 19-Avery Neal, 00:15.354[11]; 13. 273-Jerry Napier, 00:15.362[13]; 14. 16-Noah Wilfong, 00:15.379[5]; 15. 76-Dalton Pipgras, 00:15.572[15]; 16. 40C-Chad Colley, 00:15.635[10]; 17. 1-Timmy Neal, 00:15.662[21]; 18. 84-Bill Dunham, 00:15.870[9]; 19. 48-Jake Erickson, 00:15.916[20]; 20. 54-Bud Schrader, 00:16.064[23]; 21. 75XJ-EJ Szyska, 00:16.096[17]; 22. 116-Kevin King, 00:17.060[26]; 23. 4-Cameron McArthur, 00:17.649[19]; 24. 45-Bobby Miller, 00:17.912[6]; 25. (DNS) 114-Sherman Napeir, 00:17.912; 26. (DNS) 28-Bella Erickson, 00:17.912
---
Article Credit: Brooke K. Pulice
Article Media
Back to News