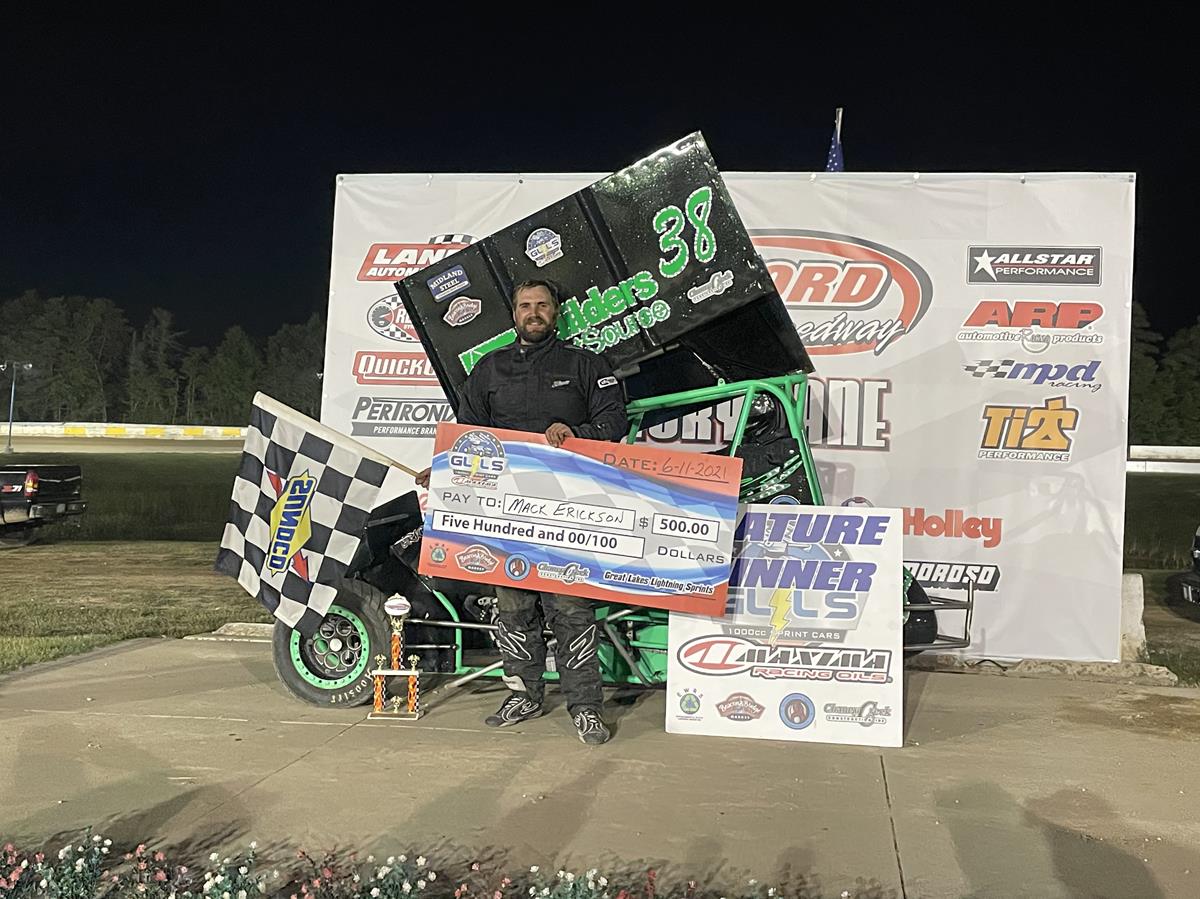 6/12/2021
Great Lakes Lightning Sprints
---
BIG MACK GETS HARTFORD WIN
Hartford, MI – The Great Lakes Lightning Sprints presented by Maxima Racing Oils opened up night one of our second double header weekend in a row at the largest of the tracks we will race this year, at Hartford Motor Speedway! Mack Erickson (South Boardman, MI) started the night out slow in qualifying, but won his heat after starting on the tail and overtaking Alex Cogley (Findlay, OH) in the feature for his first win of the season!
It was another hot, dry night for racing, but the lightning sprint drivers did what they do best, they went fast! When qualifying was over, the "Wild Child" Lindsey Erickson (South Boardman, MI) set fast time of 17.377 seconds. That's an average speed of 85 mph and over 100 mph on the straight aways! Alex Cogley was only 9 hundredths of a second behind her and Bill Dunham (Bellevue, MI) was 17 hundreths! Matt Cogley (Findlay, OH) and Chuck Erickson (South Boardman, MI) rounded out the top 5 spots.
In the Engler Machine & Tool Heat one, Lindsey Erickson moved up from 4th to take the checkered flag. The big battle in the heat was for second, between new comer Shelby Yeaples (Coldwater, MI) and Dunham. The experienced Dunham threw everything he had at Yeaples to get around her, but Shelby stayed on the peddle at took the checkered flag for her highest finish to date. Dunham finished third with Chuck Erickson and his grandson, rookie Jake Erickson rounding out the top 5.
Mack Erickson found a grove and was rolling in the Cheney Creek Construction Heat 2. Starting on the tail, he worked his way through traffic to take the checkered flag. Alex Cogley and Matt Cogley (Findlay, OH) chased Mack across the line only 16 and 19 hundredths of a second behind! Bud Schrader (Benzonia, MI) and Bella Erickson rounded out the top 5.
What the feature lacked in numbers, it made up for in excitement! Alex Cogley and Mack Erickson put on a show for the lead for the Hartford fans! Starting on the pole next to his dad (Matt), Alex got on the peddle and led the field after lap 1. By lap 4, Mack was challenging Alex for the lead. With neither car getting an advantage, going back forth, with Alex on the bottom and Mack trying to work the middle. Then in lap 5 as both were heading into 3, it looked like Mack would be able to pin Alex behind a lap car.
Alex didn't want off the peddle and he saw some daylight between rookie Jake Erickson and the inside wall…with Mack on his right and not wanting to slow down…Alex shot the gap between the wall and Jake, bringing the cars out of turn 4, three wide! Mack was able to take the lead for good in lap 6, but never really shaking Alex until the next to final lap when Alex slowed to a stop from a rear end problem bringing out the only caution.
Matt Cogley who held third the whole race, finished with a 2nd, with Bill Dunham finishing 3rd and Lindsey Erickson and Shelby Yeaples rounding out the top five. Our next race is tonight at Crystal Motor Speedway.
For pictures and updates, be sure to follow us on Facebook and Twitter (@GLSprints) or for a full schedule, results and points standings, go to www.greatlakessprints.com and click on Lighting Sprints!
---
Article Credit: GLSS Staff
Submitted By: Barry Marlow
Article Media
Back to News