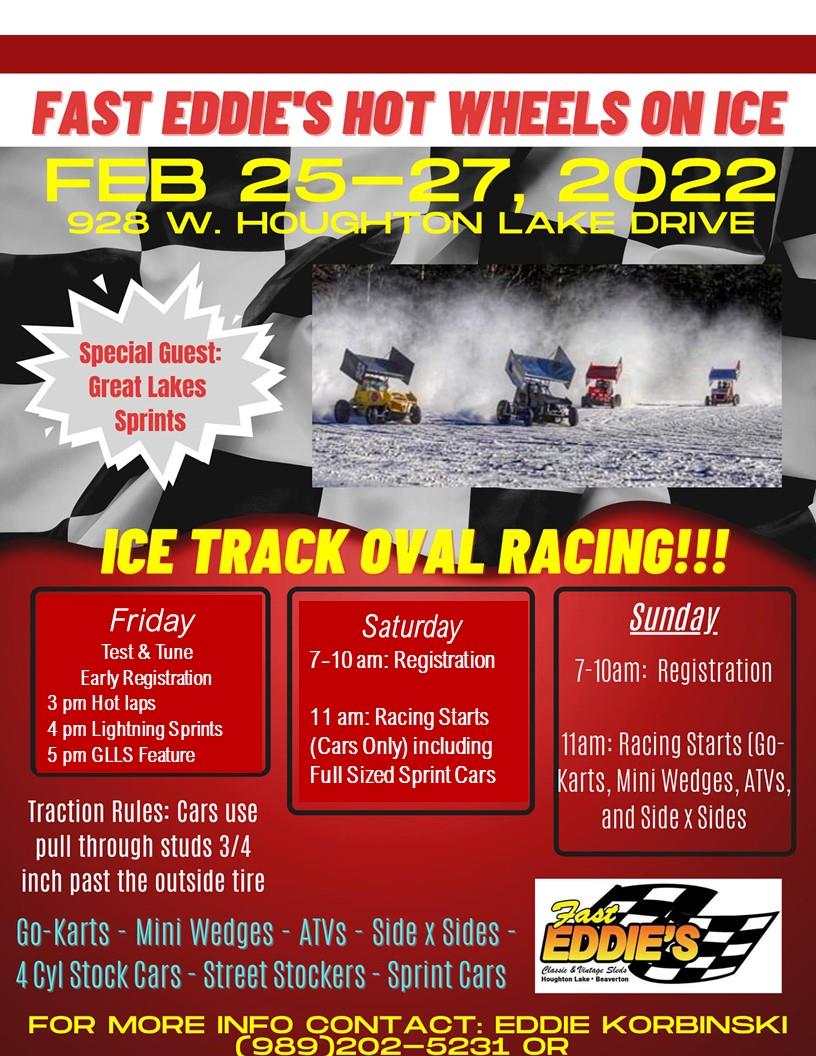 2/20/2022
Great Lakes Lightning Sprints
---
HOT WHEELS ON ICE
Merrill, MI – This coming weekend (2/25-2/27), Fast Eddies is hosting the first annual "Hot Wheels on Ice" (HWoI) which will be featuring only wheeled vehicles such as go karts, side by sides, atv's, 4 cylinders, street stocks and sprint cars. The motivation to do HWoI came last year after the sprint car test and tune during the snow mobile races. The fan excitement and racer excitement was overwhelming.
There has been a fair amount of confusion about the upcoming weekend and we would like to clear up as much as we can. First and fore most for all of our Great Lakes Sprints fans, this weekend is not a sprint's only race. Because ice racing sprint cars is new to our region, we don't have a lot of cars or drivers to draw from yet. This type of racing has been done for over 40 years in New Hampshire on local ponds. It was an introduction of Nick Berry from Sprint Cars on Ice in New Hampshire to Barry Marlow of Great Lakes Sprints that led to the desire to expand Sprint Cars on Ice to the Midwest and more particularly Michigan.
Michigan has ideal winter temperatures in January and February to make perfect ice for racing. However, we quickly learned that putting on a ice racing show would take some time. So we have spent this winter building relationships with the local Chamber's of Commerce, learning about necessary permits from the DNR and finding locations that will suit us racing on the ice. At the same time, we are trying to get our drivers to put a car together and come out and race. So up to this point we have been doing test and tunes to learn as much as we can and stimulate some excitement.
This weekend we have 5-6 lightning sprints that will be racing at 4 pm and their feature will kick off at 5 pm. Saturday the full sized sprints will be on hand and hot laps will start at 11 am and at this time we have 4 sprints committed to be there. As I said earlier, there will be multiple classes racing and the sprints are just one of the classes. Also to clarify car counts, even out east where they have raced for years, a normal turnout would be 5-8 sprint cars.
It takes time to build anything from scratch. We are excited about the popularity of ice racing and the support our fans have shown. But we want everyone to understand that until we get more drivers involved our races will be more of an exhibition type race then a race sprint car fans have come accustomed to seeing in the summer with 25-30 cars!!! (not to mention that many sprint cars would chew up all of our ice)
We our doing this for fun and because of our passion of sprint cars! We will race everyone that shows up this weekend and everyone on hand will have fun. But we don't want people to travel 4-6 hours or more thinking you will see a bunch of sprint cars. I assure our fans that seeing 3 or 4 sprint cars open it up on the ice will be exciting, but car counts and race structure are a ways off from what summer races are!
HOT WHEELS on ICE EVENT INFO
The race is in East Bay off the southeast side of Houghton Lake at Prudenville, MI. There is no charge to come watch this event. There may be a $5 per car charge to park on the ice. There are local resturants and vendors for food and drinks.
Hopefully this answers more of your questions then it creates. If you want to have some fun and watch different types of circle track ice racing, come out and see the cars and meet the drivers. Thank you for your support and we look forward to seeing everyone soon!
2023 Tentative Ice Racing Schedule
Sat. Jan 28 – Houghton Lake
Sat. Feb 4 - Lake Missaukee "Winter Festival"
Sat. Feb 11 – Lake Missaukee
Sat. Feb 25 – East Bay "New Hampshire vs Michigan" Sprint Car Challenge
Sat. Mch 4 – St Mary River Roar, Barbeau, MI
Be sure to follow Great Lakes Super Sprints, Great Lakes Lightning Sprints and Sprint Cars on Ice on Facebook and Twitter for up to date information and results.
---
Article Credit: GLSS Staff
Submitted By: Barry Marlow
Article Media
Back to News